DRAW OUT THE STORY
Ten Secrets to Creating Your Own Comics
From single-panel comics to full-blown graphic novels, comics come in endless shapes, sizes, and styles. But when you think of it, they all do one thing: tell stories:
And it's storytelling – and the ways in which comics can do it best – that Draw out the Story is all about! This book boils cartooning down to ten tried-and-true secrets that will inspire a novice and challenge a budding young master. Whatever cartooning style you want to use, this one book explains it all: from the drawing and the writing to even the most powerful techniques of metaphor, color, placement, and so much more.
Bursting with nearly 200 illustrations, engaging so-it-yourself exercises, and countless methods to spark your creativity, this is the only guide to making comics you really need.
Winner: ILA Intermediate Nonfiction 2014
Finalist: Silver Birch Nonfiction 2014
Nominated: Hackmattack Nonfiction English 2015, Maine Student Book Award
September 2013
144 pages, colour illustrations
6 x 8 in
Format: Paperback
Ages 8 to 12
ISBN 978-177147-003-2

BUY HERE
REVIEW IT ON GOODREADS
A comic showing rhythm of panel sizes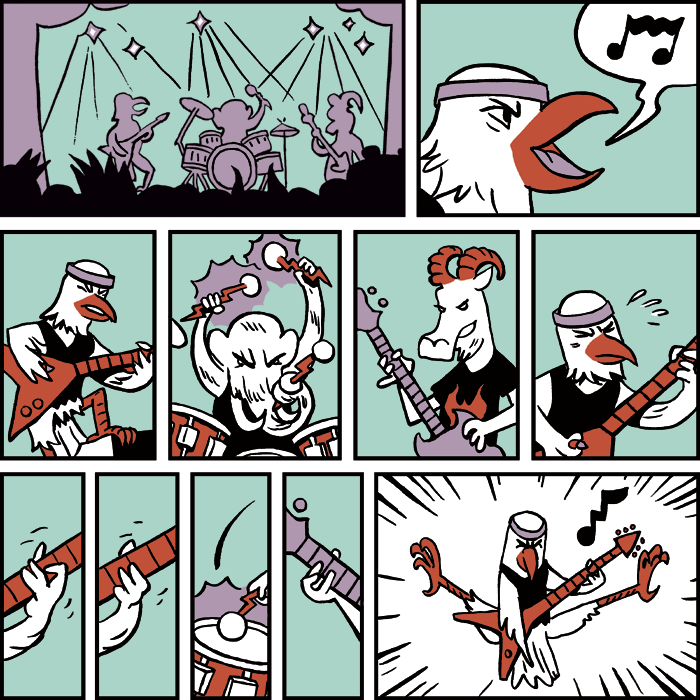 A comic showing you can use any style, and the rules apply