I have three different levels of presentations I do. Which is right for you?
For elementary aged students, and the comic-resistant audience, I offer a comics games experience. I draw in front of the group and get the audience to come participate with me and other kids in a variety of drawing games. This aims at lowering the barriers to draw, much like a karaoke booth does for signing. You don't have to measure yourself against your best peers, or professionals, you just have to be willing to join in and have fun. Drawing can be recreational!
Setup required: chart paper, easel, markers that can be seen from the back of the group. The whole group will share these items.
Size: one or two classrooms is best
For middle school kids I have a talk on how to create comics, focusing on character design, both visually, and from a storytelling perspective. I show how opposites create clear visuals and dynamic story possibilities. I talk about how backgrounds/settings are more fun when you treat them like characters, and how to best use them to create drama. I talk about symbolism works well in the visual medium and how you can use that in your own work. I also draw live, and have some audience participation, as we draw characters together.
Setup required: a way to project a Power Point projection, something to draw on, preferably chart paper and marker, but can make do with white board. Kids are encouraged to doodle while the talk goes on, so giving kids paper, pencils, erasers. I have a handouts to bring as well.
Size: from an intimate group to an auditorium works fine, although in a situation larger than a couple of classrooms, I don't get the whole group to draw along with me. That can be a project for after I leave.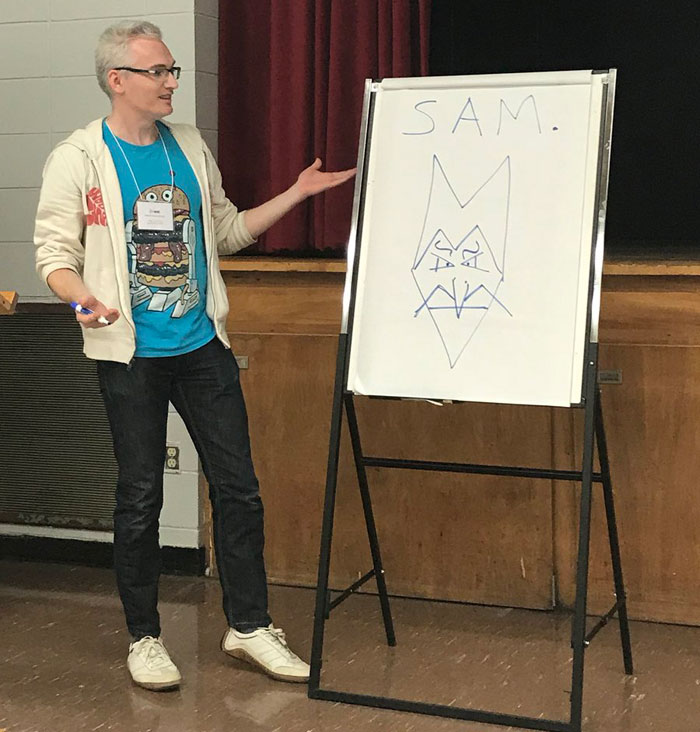 For older students I cover the middle school material, but also broaden talk of opposite characters to talk about polarized casts, using child/animal/robot archetypes and more. I also spend more time on teaching how to show and not tell in comics. I require the same setup/size as the middle grade presentation.
If you'd like me to appear at your event, to talk comics, storytelling and art, feel free to contact me via (brianmcl (at) brianmcl.com).
Past presentations clients include: TCAF (Toronto Comics Art Festival), Word on the Street, MASC, Read to Succeed, First Book Canada, TD Summer Reading Club and more.